A copy of our brochure for reading or print is available here
The Friends of the Wapack (FoW) is an independent, non-profit organization composed of hikers, volunteers, supporters and landowners. The Wapack Trail has been available thanks to property owners who have permitted hikers access through their lands since the early days of the trail's creation. As time passed the need for preserving public access and maintaining the trail prompted the formation of the Friends of the Wapack to keep it open for future generations.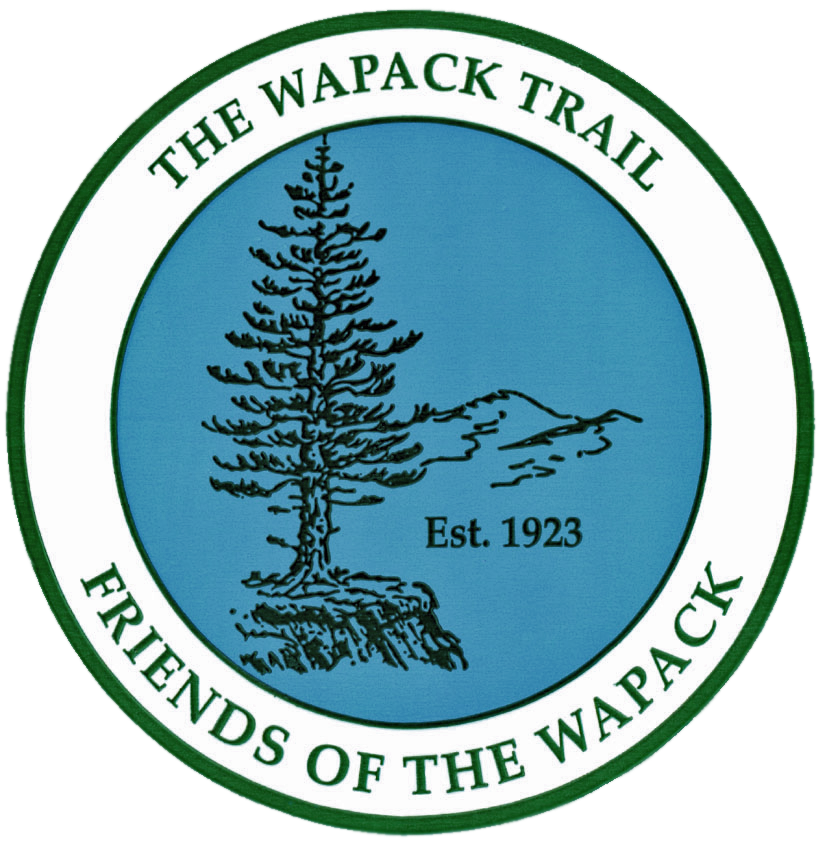 Since its formation in 1980, FoW has performed major trail upgrades, a trail guide and map have been printed and a management plan has been developed. FoW encourages mutual courtesy, friendship and cooperation between hikers and landowners. Permanent protection of the Wapack is a major goal of the organization and is also coordinated with other conservation groups. Gifts of trail easements and permanent rights-of-way are being sought.

Volunteer section captains maintain specific portions of the trail. Each winter wind, snow and ice down trees. Each spring, volunteers clear sections and periodically repaint the blazes. Weekend work parties take on more difficult projects such as brush clearing, erosion control and occasional trail relocation. The FoW has also sponsored trail maintenance workshops with Trailwrights Inc., and the Appalachian Mountain Club.
The Friends of the Wapack, Inc. is recognized as a charitable corporation under Section 501(c)(3) of the US IRS code. It receives financial support primarily from members, with additional assistance from the Appalachian Mountain Club and other contributors.
Friends of the Wapack, Inc. Board Members
Officers
Bruce Myrick, President – Keene, NH
Rick Blanchette, Vice President – New Ipswich, NH
Lee Baker, Secretary – Hancock, NH
Anne Reed, Treasurer – Rindge, NH
Standing Committee Chairs
Tom Brumaghim, Trips – New Ipswich, NH
Rick Blanchette, Trails – New Ipswich, NH
Rick Blanchette, Newsletter – New Ipswich, NH
Anne Reed, Ways & Means – Rindge, NH
Mike Przybyla, Right-of-Way & Management – New Ipswich, NH
Directors
Tom Brumaghim – New Ipswich, NH
Gail Coffey – Wilton, NH
Jon McInerney – Lincoln, MA
Anne Reed – Rindge, NH
Bob Saari – Merrimack, NH
Sherisa Sterling – Ashburnham, MA
Archivist: Jeannette Baker
Membership Coordinator: Anne Reed
Trail Master: Mike Przybyla
Web Master: Jon McInerney
Section Captains
Section Captains have adopted a section of the Wapack Trail or one of the side trails maintained by the Friends. They perform much of the basic trail maintenance. Here they are, listed North to South by adopted section/trail.
Neil Faiman and Lynne Pentler
Bob Saari
Rick Blanchette
John Hills
Gail and Gerry Coffey
Tom Brumaghim
Josh Morris
Ariana & David Harris
Molly Fince
Anne Reed
BK Noonan
Norm Sheppard
The Hawkins Family – Jonathan, Nelson and Nate
Mike Przybyla
Steve Dyke
Sherisa Sterling
---